CATEGORIES:
Other Brands
Fenty by Rihanna Bag Collection is nothing but feminine cotton pink goodness with a touch of graceful green! But that's not all there is to it. If you take a closer look, you'll definitely notice the influence of the French nobility, reminiscent of the glorious days and lavish lifestyle lived by Marie Antoinette in the Palace of Versailles during the 18th century.
A collaboration between Puma and the famous singer-songwriter Rihanna, the latest Fenty Bag Collection showcases a cheeky balance of feminine charm and street smart style. Take for example this bow cross body backpack, which not only looks uber chic but also extra functional as you can wear it over your shoulder, cross body or around your waist or hips.
With its eccentric head turning design, the Bow Cross body Backpack is perfectly crafted with a mesh back for a casual and comfortable wear. If you think it's just a cute bow, look again as it features a two-way zipped top which means it can hold most of your essentials. It measures 10" x 22" x 3" (H x W x D) inches and is priced $194 USD.
Another bag worthy to be talked about from this collection would be this Parachute satin backpack which could be a nice addition to your everyday casual ensembles. This bag features a pink floral print fabric, adjustable shoulder straps for shoulder carrying and a top handle for effortless hand carrying. It also boasts of an internal zipped pocket to keep your belongings safe.
This Fenty By Rihanna Parachute Backpack measures 19" x 14" x 9" (H x W x D) inches and is priced $359 USD, €350 euro, $2530 HKD, $519 AUD, ¥45600 JPY via MyTheresa.
Fenty By Rihanna Bow Cross body Backpack measures and is priced at $194 USD, €189 euro, $1370 HKD, ¥24600 JPY, $279 AUD via MyTheresa.
comnum(0) tbcount(0) tbcount(33)
CATEGORIES:
Fashion
Natalia Vodianova on W Magazine June/July 2017 Cover
Supermodel Natalia Vodianova gets her closeup on the June-July 2017 cover of W Magazine. Captured by Steven Meisel, the Russian beauty wears a Gucci lace shirt, hat and scarf with Pomellato rings and a Bulgari necklace. Inside the magazine, Natalia poses in styles from the designer fall collections. Fashion director Edward Enninful outfits the blonde in layered looks from the likes of Prada, Louis Vuitton and Marni. For beauty, Pat McGrath worked on makeup with Guido Palau on hair.
COVER STORY: NATALIA VODIANOVA STARS IN W MAGAZINE JUNE/JULY 2017
Covering up, Natalia Vodianova poses in Balenciaga coat and dress with Preston & Olivia hat and Hermès scarf
Natalia Vodianova models Marni fur coat, Patricia Underwood hat and What Goes Around Comes Around scarf
Flashing a smile, Natalia Vodianova poses in No. 21 top, skirt and peplum with Gucci hat and Tory Burch turtleneck
Making moves, Natalia Vodianova wears Gucci blouse, skirt and hat with Marni boots and Prada bag
Getting her closeup, Natalia Vodianova wears Salvatore Ferragamo turtleneck, Preston & Olivia hat, and Hermes scarf
Striking a pose, Natalia Vodianova models Prada dress and hat, Salvatore Ferragamo turtleneck and Louis Vuitton boots
Natalia Vodianova poses in Miu Miu dress, coat and shoes with Preston & Olivia hat and Gucci scarf
comnum(0) tbcount(0) tbcount(28)
CATEGORIES:
Other Brands
There aren't many fashion brands who won't let you buy their bags online at this point—even Hermès has answered the siren song of online retail—but Chanel remains one of the lone holdouts. Although the French handbag powerhouse has taken to releasing increasingly long and elaborate handbag lookbooks each season, you still have to march yourself into one of the company's relatively scarce boutiques in order to obtain a brand new bag. If "brand new" isn't the important part of that sentence for you, though, we may be able to help.
Over the past few years, the market for online sales of pre-owned designer merchandise (and especially things that don't have to be sized according to the purchaser's body, like bags) has exploded, and with it has comes new ways to get your hands on bags otherwise only available at brick-and-mortar stores. Depending on whether you're most interested in price, selection or the ease of the overall experience, there's probably at least one website or service that can get you exactly what you want. Check out our breakdown of the biggest Chanel bag selections online, below.
If you're new to the pre-owned buying experience overall, we've also got a comprehensive guide to make sure you have a smooth experience and know all the ins and outs, as well as a first-person retelling of our former editor Katherine's first experience buying a pre-owned bag online. Read up and go forth with confidence toward your new Chanel bag!
1 / 8
eBay is the internet's single largest source of pre-owned designer bags, period, and it's currently home to thousands of listings for Chanel bags. If price is your biggest concern, eBay is likely your best bet to find the lowest prices since the auction service takes a much smaller cut of the overall sale price than consignment or other resale websites do, which, along with the decentralized listing process, can help keep things reasonable.
The downside of eBay designer bag shopping is the bags are not checked by a third party for authenticity before they're listed, so it's even more important to be an informed consumer than it is on other types of resale sites. There are a ton of real bags on eBay, though, and as long as you educate yourself, you can scoop one up for a great price. If you're wary of a listing that seems too good to be true or you have your eye on something and want some extra assurance
2 / 8
Shopbop deals almost exclusively in brand new, contemporary clothing, bags and shoes, but through vintage powerhouse What Goes Around Comes Around, it also lists a selection of previously owned bags from a handful of super-popular brands, and Chanel is chief among them. The upside of Shopbop is WGACA authenticates its stock and tends to carefully edit its selection to focus on bags that will translate well to current wardrobes, so you get the cream of the crop. Also, you can return your bag if you don't like it, just like anything else on the site. The disadvantage is that you pay a premium for that assurance and convenience, so the most dedicated deal hunters may prefer other avenues.
3 / 8
In case you're not familiar with farfetch.com, the premise is pretty cool: the website aggregates the online inventories of and coordinates shipping and returns for the world's best independent boutiques, which means their website has a fantastically broad selection of mostly new merchandise. Lately, though, farfetch.com has been beefing up its stock from vintage-focused retailers, and that now includes Chanel bags from boutiques in the US, Europe and Asia, including some rare bags and runway pieces in addition to the crowd-pleasing flaps and totes. Each boutique sets its own prices, though, which means how much you'll have to pay can vary widely depending on the boutique and where it is relative to your shipping address.
4 / 8
Bluefly is well-known for trafficking in overstock designer goods, which most retailers of its kind buy wholesale from brokers or other middlemen. In the past several years, it has expanded its stock to include pre-owned pieces from sought-after designers whose goods generally aren't available new via wholesalers, which brings us to its current stock of second-hand Chanel bags. Most of the bags are not the newest or most sought-after designs from the brand, but they're quite well-priced for a regular retailer that offers a money-back return policy. If you like a vintage look and are looking for a deal, Bluefly is a good bet.
5 / 8
Vestiaire Collective is one of the biggest of a relatively recent crop of designer-oriented resale sites that are essentially looking to provide lots of people the opportunity to buy and sell designer goods in a mostly decentralized way, but with a more high-end feel and a more explicit promise of authenticity than eBay. Like eBay, the stock is only restricted by what's in anyone's closet at any given time, so there are gems and rarities to be found, and the wide availability of the brand's classic bags is good for price shoppers.
Unfortunately, the photo quality can vary a lot, which is disappointing for a premium service. The site includes tens of thousands of Chanel bag listings, though, which makes it an excellent spot to search for the runway rarity that's been in the back of your mind for 10 years. VC also allows shoppers to make an offer instead of only allowing a purchase to be made on a non-negotiable price, so you may luck out if the bag you're eyeing has been hanging around a while.
6 / 8
The RealReal

The RealReal is one of the largest designer consignment retailers on the internet, and although its selection is a little smaller than Vestiaire's, the 4,000+ Chanel bag listings are nothing to sneeze at. Also, prices are set by sellers, so there are deals to be had for the patient and careful, in addition to the broad selection.
7 / 8
Portero is one of the internet's longest-standing purveyors of pre-owned luxury goods, and it works a little differently than more recently launched pre-owned fashion sites because most of the listings are from vetted and approved vendors, most of which trade in luxury goods as a personal business. That means the selection is more carefully curated (and usually much better photographed) than more decentralized resale sites, many of which rely on listings constructed by individuals cleaning out their personal collections, which vary a lot more in quality and presentation. Portero also offers consignment to individuals, but since those listings are managed by the company, the experience feels more high-end across the board. That doesn't mean the prices are inflated, though—they're competitive with other popular, well-known resellers on eBay and elsewhere.
8 / 8
Designer bags have become a hot commodity for big auction houses that are more traditionally focused on art, antiques or fine jewelry, and Dallas-based Heritage Auctions was the first house to dedicate significant resources to sourcing bags. While the rarities sold for sky-high prices are the things that make headlines, but both HA's seasonal auctions and its tightly curated online shop offer bags that are less rare for competitive resale prices. At the other end of the spectrum, if you're looking for the rarest and most exotic, Heritage can do that, too.
comnum(0) tbcount(0) tbcount(28)
CATEGORIES:
Fashion
Swimsuits For All features the Lifeguard Swimsuit in Baywatch inspired campaign
Ashley Graham, Teyana Taylor and Niki Taylor team up for a brand new Swimsuits For All campaign. The trio of beauties channels 'Baywatch' in a matching red one-piece called, the Lifeguard Swimsuit. Ashley, Teyana and Niki pose in sunny Miami in these minimally retouched photographs. True to its name, the swimsuit comes in a variety of sizes ranging from a 4 to 24.
SWIMSUITS FOR ALL BAYWATCH CAMPAIGN
Ashley Graham looks sexy in red for Swimsuits For All Baywatch campaign
Swimsuits For All taps Ashley Graham, Teyana Taylor and Niki Taylor for Baywatch campaign
Teyana Taylor runs on the beach in Swimsuits For All Baywatch campaign
Niki Taylor stars in Swimsuits For All Baywatch campaign
Ashley Graham, Niki Taylor and Teyana Taylor wear the Lifeguard Swimsuit from Swimsuits For All
Ashley Graham jumps on a jet ski in Swimsuits For All campaign
Swimsuits For All heads to the beach for latest campaign
Teyana Taylor fronts Swimsuits For All Baywatch campaign
Swimsuits For All Lifeguard Swimsuit $58.80
This scoopneck one-piece swimsuit is great on all body types in a vibrant red.
comnum(0) tbcount(0) tbcount(33)
CATEGORIES:
Other Brands

Harry Winston has followed up its incredible 'Histoire de Tourbillon 7' timepiece released last year with another mind-blowing creation. Meet the Histoire de Tourbillon 8 – the latest in an ongoing series of tourbillon watches by the renowned jeweler that was created to explore and surpass the boundaries of horological complication and design. The timepiece is fitted with two bi-axial tourbillons, each of them made up out of 117 parts, yet weighs only 0.76 grams. Although watch uses pretty much the same bi-axial tourbillon complication of its predecessor, it offers a new time display with jumping hours and minutes, and comes with other aesthetic tweaks.



Both the tourbillons have an outer cage which makes a full rotation every 75 seconds at a 30-degree inclined axis, and within a second cage makes a full rotation in 45 seconds. They work independently from each other, but a spherical differential unifies them. The 51mm white gold case features alternating polished mirror and satin finishes. The dial's entire surface area is actually one component, made up of 13 different elements with varying textures and finishes, and the two conical discs, housing the hour and minute displays, are made of aluminum.


The caliber HW4503 that houses the twin tourbillons measures in at a whopping 43mm in diameter and is equipped with two rapidly rotating superposed barrels. Only twenty pieces of the Harry Winston Histoire de Tourbillon 8 will be produced (ten with the red dial, and ten in anthracite grey). There is no word on the pricing as of yet.

comnum(0) tbcount(0) tbcount(32)
CATEGORIES:
Fashion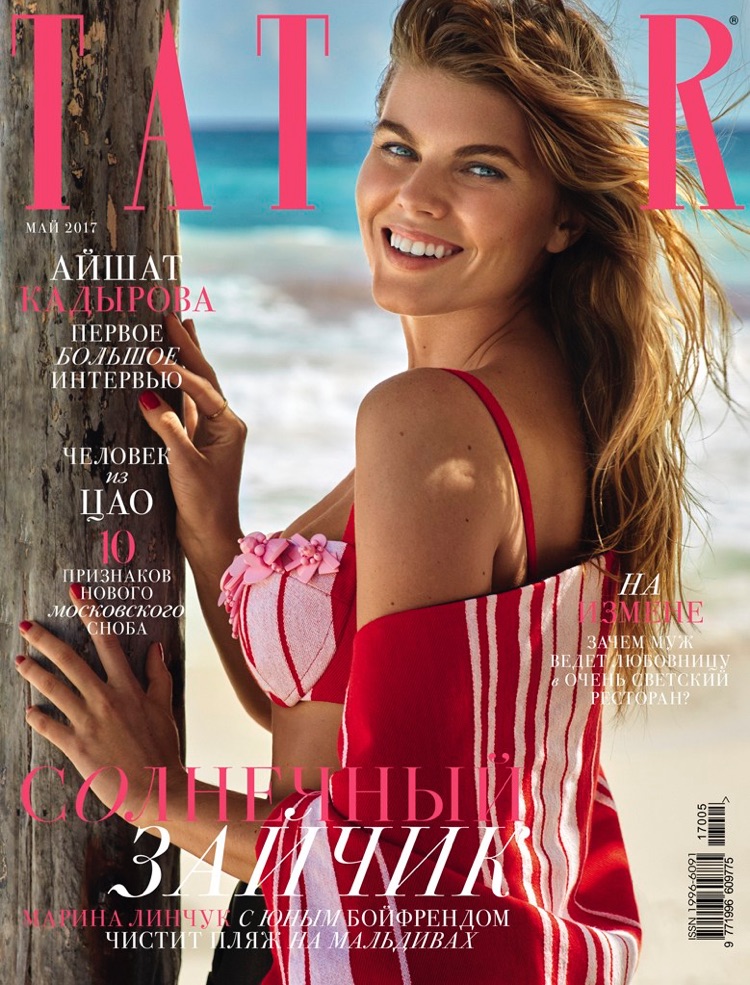 Maryna Linchuk on Tatler Russia May 2017 Cover
Top model Maryna Linchuk flashes a smile on the May 2017 cover of Tatler Russia. Lensed by Alexei Hay (Atelier Management), the blonde beauty wears a Miu Miu bikini top, stole and bottoms with retro inspired stripes. Inside the magazine, Maryna looks ready for beach season in hot swimsuit looks from designer collections styled by Daria Anichkina. From chic one-piece silhouettes to mesh bikinis, the Belarusian stunner charms in the designs of Versace, Agent Provocateur, Calzedonia and more.
COVER STORY: MARYNA LINCHUK STARS IN TATLER RUSSIA MAY 2017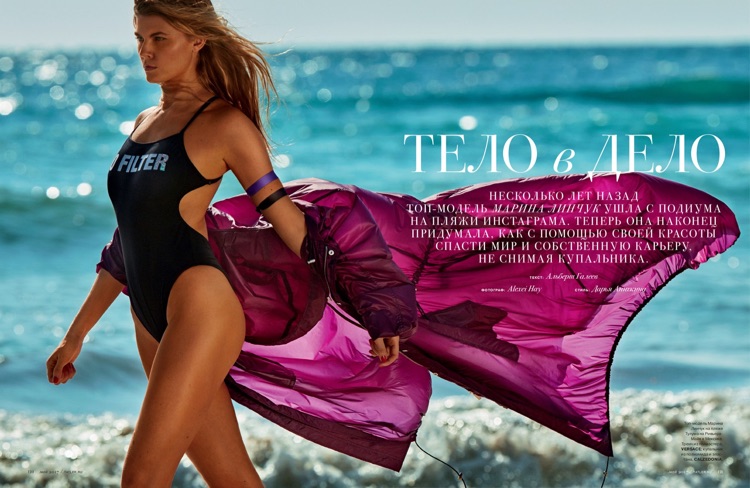 Maryna Linchuk poses in Versace windbreaker jacket and Calzedonia swimsuit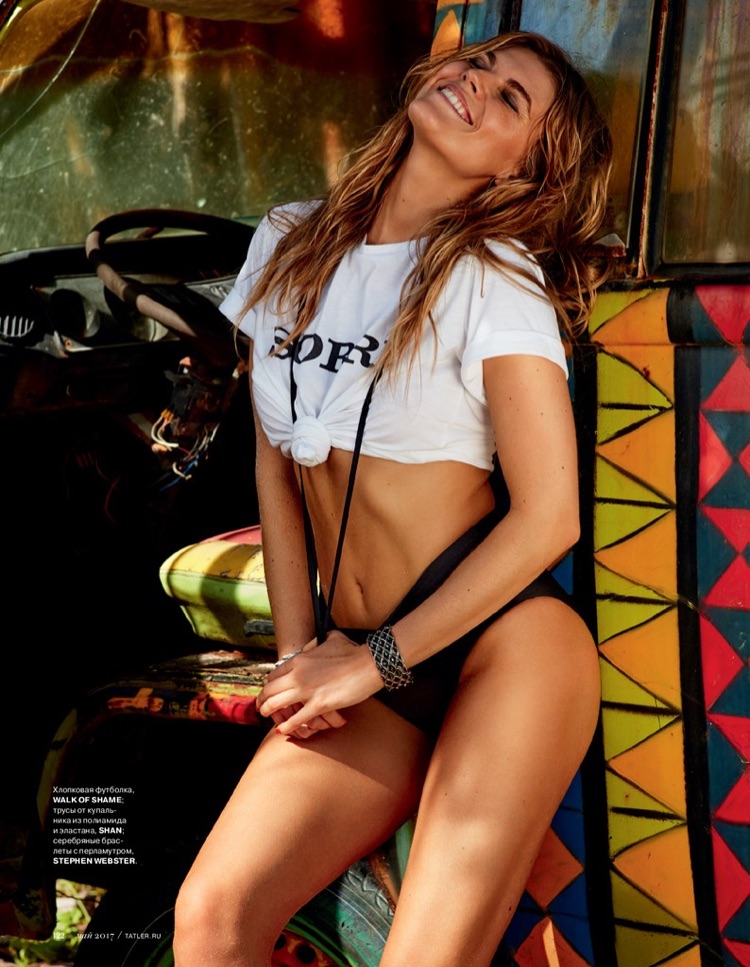 Model Maryna Linchuk poses in Walk of Shame t-shirt and Shan bikini bottoms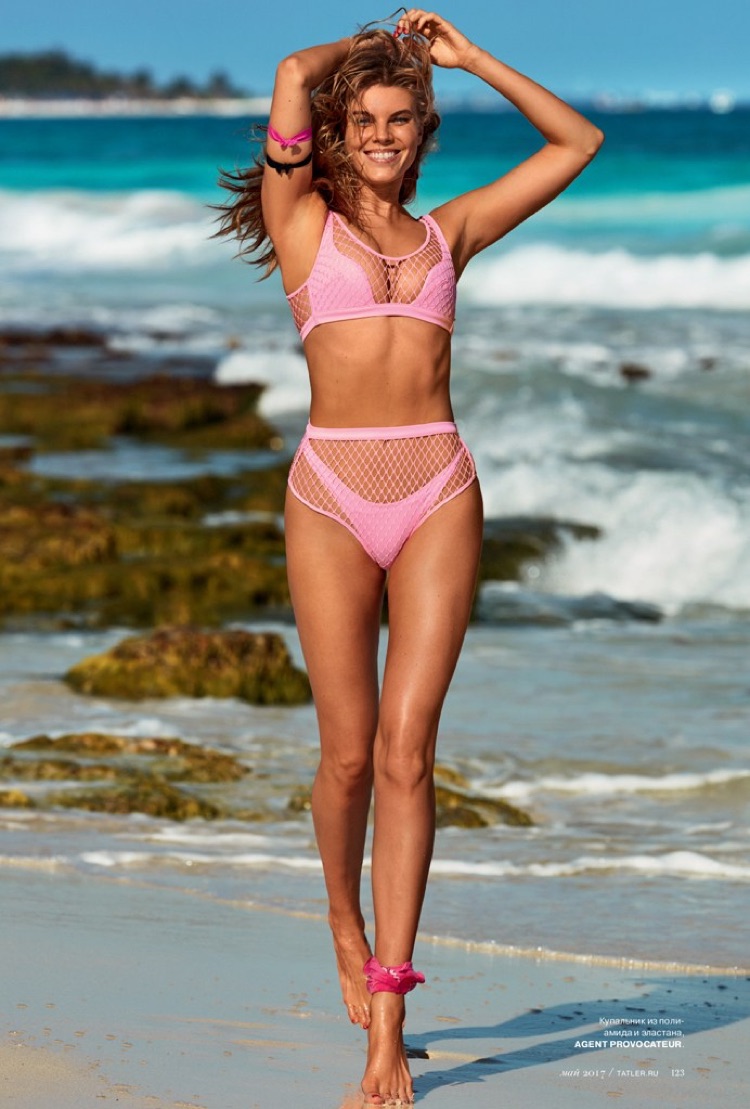 Looking pretty in pink, Maryna Linchuk poses in Agent Provocateur swimsuit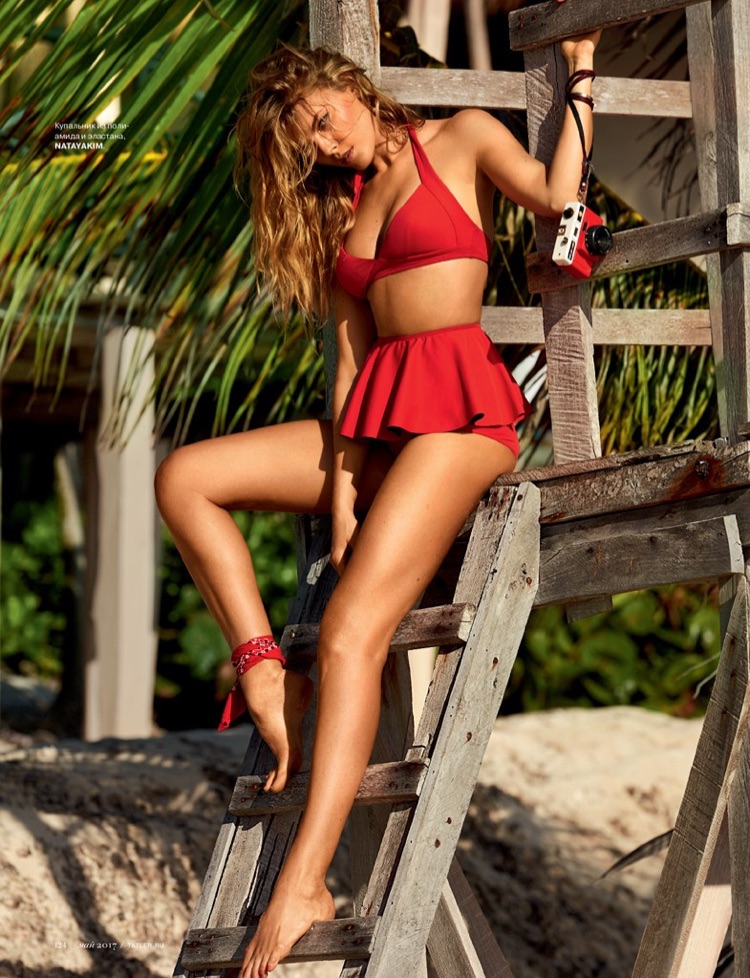 Looking red-hot, Maryna Linchuk models Natayakim bikini top and bottoms with pleated skirt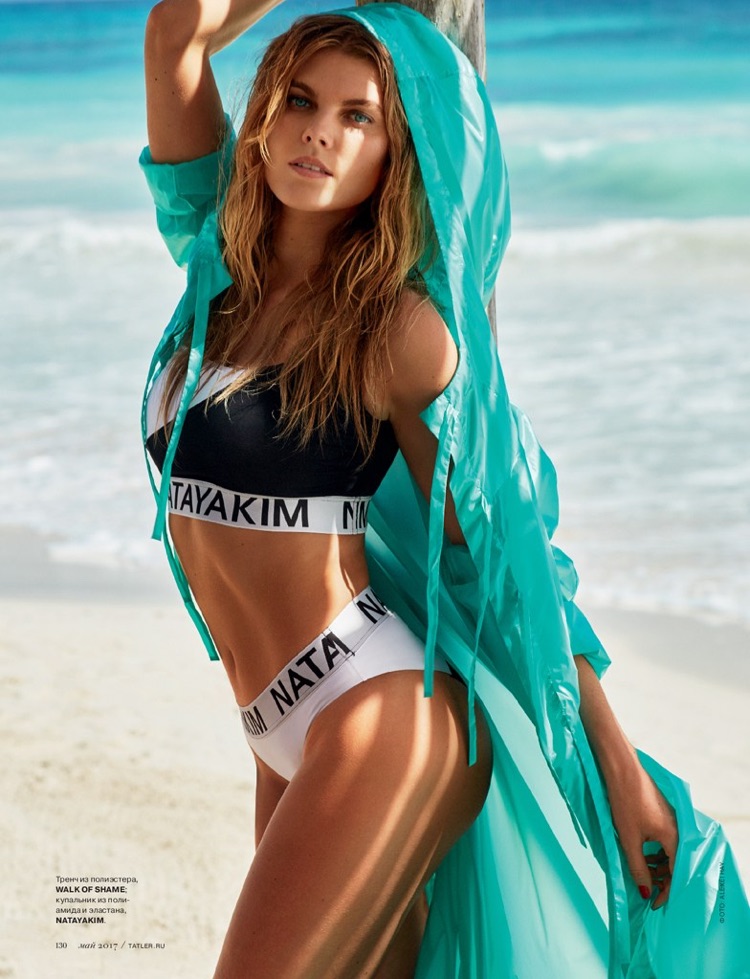 Maryna Linchuk models Walk of Shame cover up with Natayakim bikini top and bottoms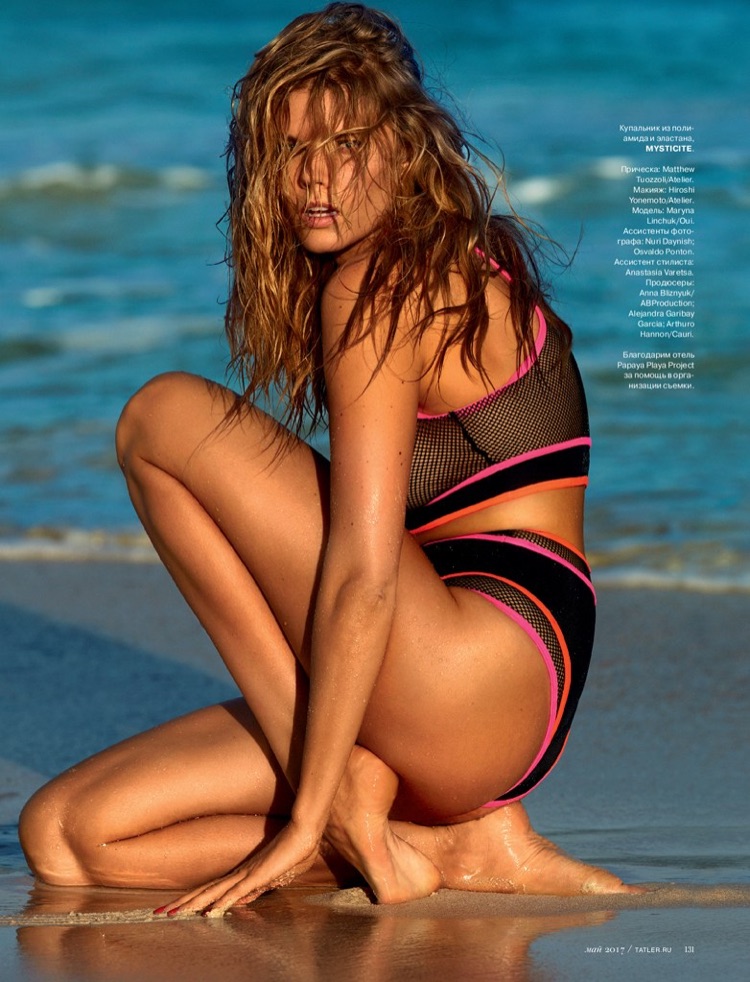 Model Maryna Linchuk models Mysticite mesh bikini top and bottoms
Categories

New Posts

Hot Posts

Tag Cloud